Certified English to Vietnamese translator offers premium quality English Vietnamese translation services to global clients.
English Vietnamese translator delivers professional English Vietnamese translations, fast and efficient turnaround, professional services and quality you can trust together with local expert and global insights at best prices!
We are exceedingly proud ourselves on providing the same high quality translations and language services to all our customers – from the individuals to translation agencies and very international clients all over the world!
---
Testimonials from the Global Clients
Professional English Vietnamese language services valued by some of the biggest companies and translation agencies with proven track records worldwide!
Certified English to Vietnamese translator aims to become a reliable partner on which you can depend and trust.
---
Here are below some of Testimonials from the Global Clients:
---
Global Translation Services
Great translator – professional, punctual, accurate work – A++++.
---
PICS Auditing LLC
When I work with Doan Quang, I am assured that my project is well taken care of.
---
Wolfestone Translation
Doan Quang was a pleasure to work with, really responsive and helpful. A very professional and competent English to Vietnamese translator who I will certainly work with again in future!
---
Andes Translations
Doan provided very good translations from English into Vietnamese, and the formatting of the document was impeccable. Very responsive and fast turnaround. Highly recommended!
---
---
Fun Easy Learn
Great work!!!!! A true professional. I'll definitely hire him again. Thank you!!!
---
---
Pearl Linguistics Ltd
Extremely responsive, reliable, well-formatted text!!!
---
SFXtranslated
Very reliable!!!
---
Trebon Language Solutions
Very efficient with a high quality translations!!!.
---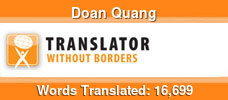 Translators without Borders
This is to confirm that Doan Quang has been a volunteer translator for Translators without Borders since 27th March 2016, and has translated a total of 16,699 words mainly for the American Red Cross, but also for Smile Train. Thank you for your great help!!!
---
Testimonials on my Proz Profile
World-class certified English to Vietnamese translator.
I am in the first in ranking among 5,000 English Vietnamese translators on Proz.com, the largest community of translation professionals in the world.